Pop Art | a Conversation Between Artists
I believe Pop Art is the most direct and understandable. It's made of everyday elements that make the genre more relatable. The ostriches being faceless embodiments are representative of the human condition, albeit in a satiric version. The specific icons are representing occidental peoples trapped in a moment of time. Keith Haring provides a lesson on the absolute freedom of art. Robert Indiana creates sculptural poetry. Roy Lichtenstein creates comic and dreamy atmospheres. David Hockney embodies a new kind of figuration. All of these are testimonies that interact in the artist's work.
Keith Haring: The Freedom of Art
"Art is free." is one of the most notable Keith Haring quotes. He was rebelling against the notion that art is a luxury asset only to be procured by the wealthy few. In April 1986, Haring opened 'Pop Shop,' intended to allow a more extensive range of people access to his art. This was his primary desire to make art accessible. Through his references, I paint in solidarity for the total freedom of what is art.
Roy Lichtenstein: Comic and Dreamy
One of the leading figures in the new art movement of the '60s, Roy Lichtenstein redefined art. Everyday elements and relatable characters filled his colorful canvases. Lichtenstein transformed the purpose and perception of art through his comic and dreamy portrayals. I learned from him to experiment with the boundaries of art, comics, and literature. Through my art, I am questioning boundaries altogether.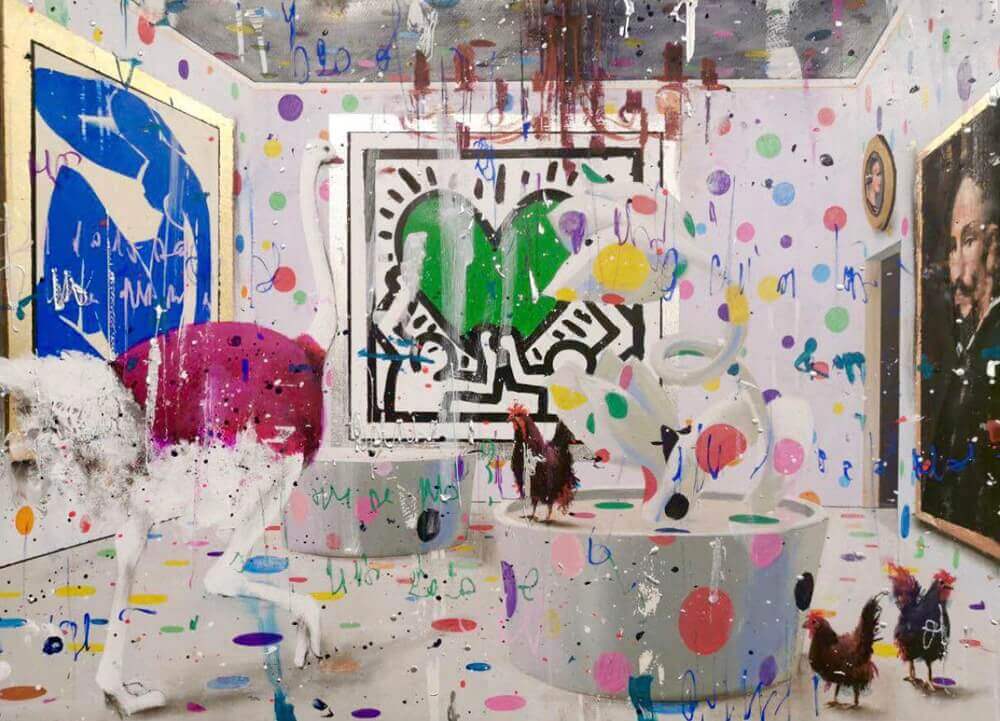 Robert Indiana: Sculptural Poetry
There is known to be visual imagery in literature abound; however, Robert Indiana reimagined what was previously thought to be the border of what is considered poetry. He pushed that boundary along with others in his redefinition of poetry through visual art. In my paintings, I write a new story that draws on the tales of those who created before me. I use Indiana's 'LOVE' and 'HOPE' with frequency as it speaks to audiences cross-culturally.
David Hockney: a New Kind of Figuration
David Hockney was one of the most prolific artists influencing the pop art movement of the 1960s. His paintings are the embodiment of the occidental people. His creative and innovative imagery is mundane yet extraordinary. His palette and simplified stylistic approach to painting are now iconic worldwide. His subject matter of interest ranges, creating a new kind of figuration that has immortalized through prints and re-creations. This unique, ground-breaking art form has greatly inspired my own artistic style.
There is a conversation between artists through their works. I fill my gallery with references to all those who have inspired my work. The revival of classical forms interacts and unites with pop art and modern icons through my imagination. I explore American pop cultural references while staying true to my own unique style, all creating a story based on the tales begun by others. 
Explore my full collection at Eden Gallery here!
SELECTED ARTWORKS
Contact For More Information,
Availability and Price