How to choose wall art – 5 tips to consider before buying
Choosing the right work of art for your home can be a tricky ordeal. For some, it may even be the most challenging part of decorating. There are several questions that may arise when choosing the right artwork for a room:
How do I choose the right size artwork?
How do I choose the right artwork colors?
How do I choose wall art for a living room or other room?
How do I pair different pieces of art together?
These questions can feel overwhelming if you don't know where to begin. In this article, we are going to cover all these topics to help you choose the perfect piece of art for any room.

How to choose wall art
Location is the most important factor when figuring out how to choose wall art. Should you choose a living room, a bedroom? Or even a bathroom? Maybe you are looking for a statement piece to put in an entryway or hallway. In addition to where the art will be hanging,  it's important to consider the size of the space to ensure you purchase pieces that enhance the area, not make it feel small and cluttered. All these factors should be considered before a piece of art is purchased.
You can place a large piece of wall art facing a doorway or entry point for a dramatic entrance. This will draw attention to a focal point as soon as your guests walk through your door. For a beautiful backdrop, place an art piece to the side of a gathering area. Place the art above the featured space if you want to highlight an area.
 You can display a single piece by itself or create a personalized collection by featuring it with others. There is also wall art that comes in a set if you want to personalize a certain theme. In many instances, the artwork is the missing element that can complete an entire room. If you are looking to refresh an outdated space, wall art is definitely the way to go.
How to choose wall decor styles
Play around and experiment with styles. While traditional art can complement a traditional space, try using a modern art piece to bring a fresh new look. Add depth and dimension to your space by using varied wall art finishes and textures. A good way to do this is with papercut artworks. Include both framed wall art and unframed canvases for additional variety.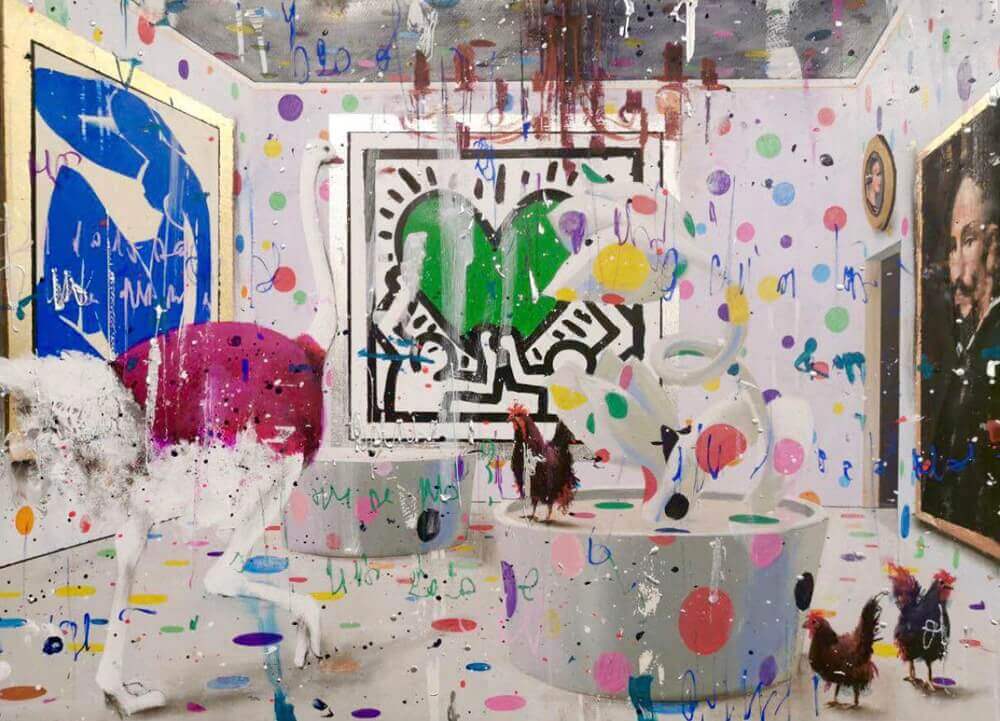 How to choose wall decor for living room
The living room is often the largest and most used and visited of all spaces in your home. This is the room where you will host many guests and spend most of your family time so you want to pick a work that you truly love and feel connected to. Most likely this artwork will be sitting in that horizontal space above your couch or mantlepieces. If you are considering a large piece, this is probably the best place to display it. The best artwork here would be something that provokes conversation, or something that is relatable and referential to who you are. Think of these three things when you are choosing wall art for a centerpiece of a living room:
Size restrictions. It's a good idea to measure your available space first, to make sure that your artwork of choice fits appropriately. 
Light. Consider where the light is coming from in the room. Some people are bothered by natural light casting a glare on their artwork, especially if it is meant to be the centerpiece of a room. 
Color palette. Does the artwork you chose go well with the color scheme of the room? Think more in terms of complementary your existing decor, as opposed to color-coordinating or matching exactly. 
How to choose the right size art for a wall
Here are some rules of thumb when it comes to choosing the right size art for a wall:
Wall art should cover around 60-75% of the space you are working with. You can check this by measuring the width and height of your wall and then multiply them by both 0.60 and 0.75. This will give you the range of appropriate sizes that you are looking for.

When hanging wall art over furniture, such as a bed, a fireplace or a couch, it should be between 2/3 to 3/4 of the width of the furniture. 

For the most aesthetically pleasing decor, it should hang around eye level. Make sure to choose artwork that is appropriate to hang at this height.
A blank wall is your art masterpiece waiting to happen. When choosing wall art or even choosing the right frame for a piece of art, a little bit of research goes a long way. Good luck!
SELECTED ARTWORKS
Contact For More Information,
Availability and Price